Built, running, and making the power it was intended for.
The Specs:
-2309cc, 83mm bore, stock 86.4mm stroke 7A crank and block (bored to 83mm from 82.5mm)
-Port matched, flowed 7A head, 230cft at .4" lift, 28" water (stock was 188cfm). Machined for RS2 water manifold.
-O-ringed block, .005" proud, .065" 034Motorsport annealed copper head gasket with MLS, rubber coated sealing layers.
-83mm JE pistons, 144mm 034Motorsport rods, ARP 2000 rod bolts, ARP headstuds and crank bearing studs. 8.3:1 CR
-CAT Cams 272/264 cams with 11.2mm lift, 112d lobe center (adjustable). 415whp, currently running 7A cams, 395whp baseline)
-Custom 034EFI long runner header, T3 exh. flange, all 304 stainless including flanges, full 3" downpipe and exhaust system. Wastegate dump open to atmosphere. - Now running Production Piece
-Selection of turbos, 034EFI HIGH OUTPUT T3/T4E (capable of 550HP or 55Lbs per minute of flow, currently running 034EFI T3/T61 Hybrid. Future plans to run a Garrett GT35 or 40R. - Now runniing GT40R, future plans for GT42RS (current turbo)
-3B Intake manifold and throttle body - 034EFI High Output Intake Manifold with AAN Throttle Body current.
-Custom 034Motorsport/SPEC Sintered Iron Clutch with dual spring fingers, over 3000lbs clamping force.
-034EFI Stage IIc EFI system with direct fire (coil per cyl) ignition, sequential fuel injection, 75LB injectors
Some Pictures of the Build in Phases
Original Build, PHASE 1:
PHASE 2 - New 034EFI T3/T61 Turbo in 516whp configuration,: (Spring 2005) - The upgrade of simply the turbo results in an additional 100 wheel HP and a much peakier power band.
PHASE 3 - 034EFI Garrett GT40R Turbo, 034EFI High Output Intake Manifold, 034EFI Production Tube Header, 599.1whp (Fall 2005), 640whp Spring 2006.
PHASE 4 - 034EFI Garrett GT42Rs Turbo, 4"-3.5" downpipe, -10AN fuel feed line, dual 044 Motorsport Fuel pumps(January 2007). This phase is developed for 1000 wheel HP or approximately 1300 crank HP which is what this turbo is capable of, stay tuned!
Update! - I baselined the current head with the new turbo to the tune of 703whp at almost 40psi boost, the next step will be to install a new 034Motorsport high flow cylinder head with oversize valves, solid lifters and CAT cams, this head flows 50% more than the current head and should bring output to the 1000whp range desired, stay tuned!
| | | | | |
| --- | --- | --- | --- | --- |
| | | | | |
| | | | | |
| | | | | |
| | | | | |
| New High flow head, solid lifters, 11.2mm lift cams, 280d duration, 280cfm at max lift, 2mm oversize intake, .5mm oversize exh valves - stay tuned for results! | | | | |
After some "developmental sorting out" (read the Motorgeek Forum thread for more detailed info), and dyno tuning and street tuning, the results have been quite spectacular, and its only just the beginning.
Dyno Chart, 415 whp (wheel horsepower) with CAT Cams, 30psi boost: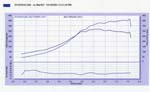 Dyno Chart, 455.1 whp (wheel horsepower) with stock 7A Cams, 30psi boost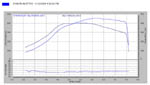 Dyno Chart, 393whp with 7A cams, 25psi boost

Dyno Chart, comparison between CAT cams at 30psi and 7A at 25psi

Dyno Chart, 516whp at 30psi with 034EFI T3/T61 Turbo: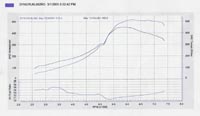 12 Second 1/4-mile time slip: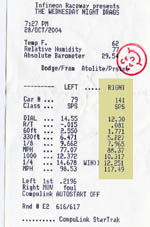 11.9 Second 1/4-mile Time Slip, 125mph Trap Speed: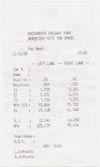 Videos (Right Click Save As, or just enjoy)
Fuel Pressure Drop at 30psi and 516whp!
Laguna, out of Turn 11 into Turn 1
Laguna, mellow warm up lap on damp track (you'll get the idea ;)
80tq 034EFI Stage IIc Anti-lag Demo
11.2 Second 1/4 mile video, 134.5mph trap speed
Bent axle video from drag racing, front left
80tq video accelerating up the front straight of the Streets of Willow
80tq video 4-wheel smokey burnout
80tq video, breaking front left axle
80tq video, Laguna Seca turn 1
80tq GT42RS 28psi Header Glow Video
80tq GT42RS 703whp downpipe exit video
Eurotuner GP 2006 Media folder - Lots of cool pictures and videos of 80tq blowing away the competition.
Project Forum:
Read all about installation, testing and findings at the Motorgeek.com Project page, click
Stay tuned for more updates about this powerful 20vturbo motor. Future plans include an 034Motorsport solid lifter head that will flow 250cfm and rev to 9500rpm. 800+ wheel HP (or over 1000 crank HP) and sub 11 sec. 1/4 miles' are in the foreseeable future for this motor.